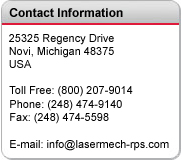 Laser Spare Parts
Welcome to Laser Mech Replacement Parts & Service (RPS), your full-line industrial laser spare parts supplier. On this site, you will find both consumable and preventative maintenance spare parts for virtually every brand of laser machine on the market today. We strive to maintain a large inventory that is always in stock for immediate shipment. It is our goal to be your one-stop-shopping destination. This site is organized to make it easy to determine what you need. There are detailed pictures and drawings for visual comparison, as well as the machine manufacturer's part number cross references. Our full print catalog is also available to download for easy offline viewing.
For those of you new to the laser business, you will be happy to know that our roots lie in the manufacturing of laser beam delivery – not just in spare parts and distribution. In fact, our parent company Laser Mechanisms, Inc. has been the industry leader in the design and manufacture of laser beam delivery components for over 40 years. It is this tradition of leadership that enables us to stand behind the products we sell with the assurance that your item will be on hand, delivery will be on time, and it will be on target with your process requirements. We maintain one of the largest inventories of spare parts in the world in order to honor this commitment.
While this site includes many of our parts and optics, it is by no means our entire product line. If there is an item you don't see or if you have a question, give us a call at (800) 207-9014. At Laser Mech RPS we are always ready to exceed your expectations.